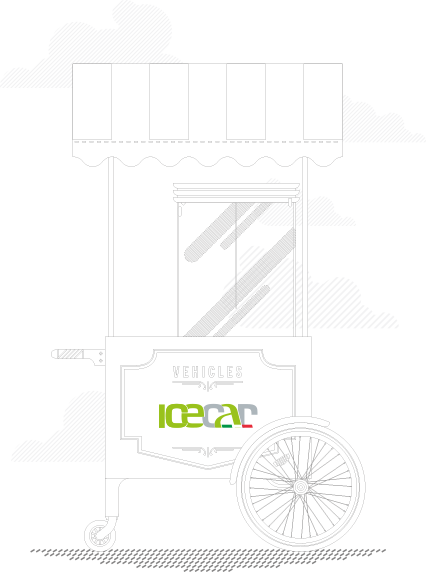 Fully equipped ICECAR Vehicles for street food vending
Can be customised for hot and cold foods as well as bespoke uses
We build a wide range of CUSTOMIZED ICECAR VEHICLES specially designed for the sale of food requiring temperature-controlled storage conditions, you can sell cold foods (ice-cream, semifreddi, cakes, drinks, beverages, fresh fruit, cheese, sausages, small fruit, etc…) or hot foods (fried food, panini, fried dumplings, piadinas, kebabs, crepes, chocolate fountains, candy floss, sandwiches, pizza, pop-corn, coffee, etc…).
These vehicles are real hot or cold food shops selling on the road (push carts, tricycles, 'Ape' Cars, food vans, trailers) which are fully equipped with all the essential accessories needed for sales.
ICECAR customised vehicles for street food vending are fully compliant with hygiene and food security standards, and all the materials used in the customisation process are appropriate for food preparation.
We also prepare the technical documentation needed for the type-approval and registration of the motorised vehicles.
In a nutshell, the ICECAR team takes care of its customers right from the start and after the vehicle has been purchased. We'll always be right at your side.
What would you like to sell? Ask our team for advice!
Contact us
CHARACTERISTICS OF OUR EQUIPPED VEHICLES
Customised and tailor-made by specially trained technicians in our factory in Belluno (Italy).
Up to 6-8 hours of autonomy without being connected to a power supply.
A wide range of accessories (radio, LCD screen, LED lights, whipped cream machine, coffee machine, cone holder, cup holder, extra shelves, etc…)
Completely customisable (choice of the sunshade, customised graphics and images, customised RAL colour, gloss/metallic/opaque paint finishes…)
Prompt after sale customer service
Sales of new and used customised vehicles
Setting up and equipping your vehicle for street food vending.
Adapting and/or restoring vehicles for street food vending, both the interior and the exteriors (furniture, technical equipment, machinery, graphics, painting…)
Supply of spare parts and replacement products for vehicles already set up.
After sales customer service on the phone, or on site anywhere in the world.
Worldwide shipping and delivery service.
ICECAR STREET FOOD VEHICLES – SPECIAL CUSTOMISATION